Ten Tips for Taking Better Spring Photos of Your Dogs, Cats, and Other Family Members
Spring is here, although you wouldn't know it by today's temperatures! Cherry trees, the harbinger of spring in the DC area, are flowering (or starting to, depending on where you live) and the daffodils have been blooming for a while. With the weather warming up and everything looking so pretty, it's a great time to get out and take some pictures! Here are ten tips for taking better spring photos of your dogs, cats, and other family members!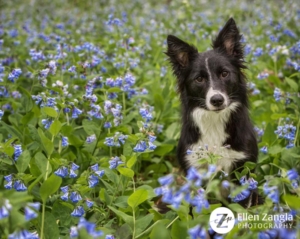 1) The right light makes a huge difference in how spring colors look in your photos. Generally, the best time of day to take pictures is in the early morning or early evening when the sun is lower in the sky. Direct, overhead sun washes out the colors, reducing their vibrancy; look at cherry blossoms in early morning/early evening and at noon and you'll see what I mean. Direct, overhead sun is also unflattering for people and pets.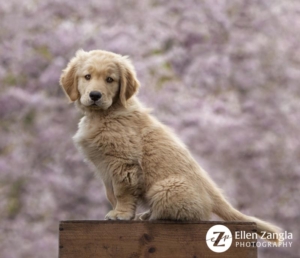 2) Bright, overcast days also really make colors pop. The lighting on those days tends to be even, so it is flattering for pictures of pets and people, too. Have everyone face the sun, even if it's not visible in the sky, as it will put great light in their eyes.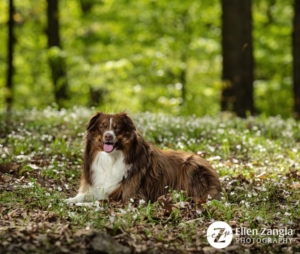 3) Have the sun light your dogs and the background from the front, preferably slightly to one side (again, early morning or early evening). Assuming you are taking the pictures and facing your dogs, the sun will be behind you. This also puts nice light in their eyes and will show your dogs, other family members, as well as the background to their best advantage.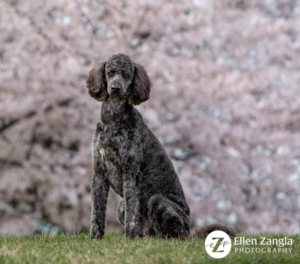 4) If you're photographing your dog with flowering trees behind her, shoot from a low angle. There often is a lot of space between a tree's blooms and the ground, so if you photograph your dog at her level, you'll see tree trunks and have a lot of space between the top of her head and the blooms. Getting lower—try lying on the ground or putting your dog on the top of a hill and photographing from the bottom of it—puts the blooms behind your dog and eliminates or reduces the visibility of tree trunks and "empty" space.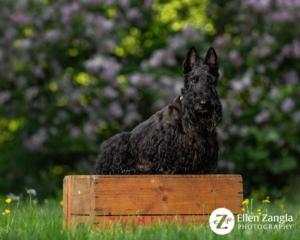 5) You also can elevate your dogs (or cats or other pets if they go outside). Try putting them on a chair, crate, or anything that gets them off the ground. Similar to shooting from a low angle, this puts them closer to the level of the foliage.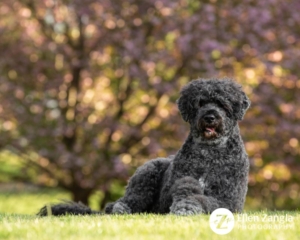 6) If you're photographing with blooms as a backdrop, try to keep your dog and other family members at least 10 feet from them. This helps keep the background out of focus, emphasizing your family members and letting the blooms be the accent of the picture, not the main subject! (Note that this works best with a camera or phone in "portrait" mode. Or if you use a camera in either manual or aperture priority, your aperture should be relatively open, e.g., F 5.6.)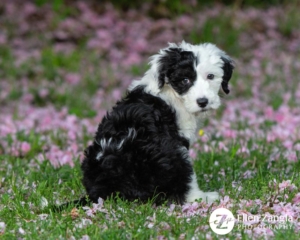 7) Once the blooms drop, and while they still look fresh, put your dog in them and photograph him from a higher angle.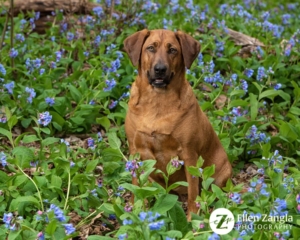 8) Put your dog in a field of flowers, and depending on his size, and the height of the flowers, have him sit or lie down so he is surrounded by them. I like to take these photos at the same level as the dog or at a slightly higher angle, as it really shows the flower mass best.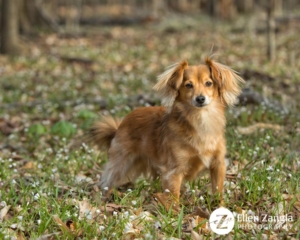 9) Small dogs look great photographed with small, low-growing flowers as they don't overwhelm the dog.
10) Don't overlook the weeds (at least for pictures). Some of them are really pretty and they can add a nice pop of color to your photos.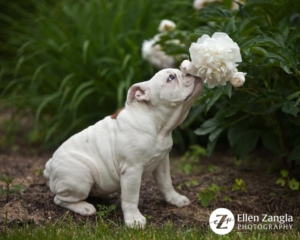 Bonus) Don't forget to take time to stop and smell the peonies!!
Feel free to email or call me at 703-727-3368 if you have any questions or would like to schedule a spring photo session. I have a safe, private, and beautiful outside setting, so it is easy to keep a safe distance, and because it is private, there are no other people or pets nearby. I create much of my landscaping thinking about how it will look in photos, and I have one-of-a-kind props, which you won't find elsewhere. (I would be happy to come to your house or meet somewhere else outside if you prefer that.)
Ellen Zangla Photography: Pet portraits with personality!
M.Photog., Certified Professional Photographer
Professional Photographers of America: 2018 Bronze Medal Photographer of the Year
My pets, one dog and four cats, are an integral part of my life. I absolutely adore them. Like other family members whom we love, I feel that it is incredibly important to have portraits of them that capture the essence of who they are, whether they're regal or goofy (or both!) or somewhere in between. If you feel the same way about your dog, cat or other fur or scaled kid, here's how you can learn more about a pet photoshoot with me works. Or feel free to contact me.
I am a pet photographer, specializing in photographs of pets and pets with their people. I serve all of Northern Virginia, including Loudoun, Fairfax, Leesburg, Ashburn, and Reston, as well the DC Metro area, and I would love to create portraits of your pets that reflect how you feel about them and that you will treasure for a lifetime!