Today is the first day of Fall—the temperatures are getting cooler (finally!), the leaves will be starting to change colors soon, fall flowers are starting to bloom, and apples taste their best (if you've never tried Honeycrisp apples, you need to!!). Autumn also is a really popular time to take family photos (for the first three reasons, not the last). Here are ten tips for taking better pet and family photos.
1) The right light makes a huge difference in how fall colors look in your photos. It's best to take pictures in the early morning or late afternoon when the sun is lower in the sky. Direct, overhead sun washes out the colors, reducing their vibrancy, and is also unflattering for people and pets.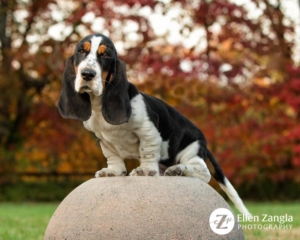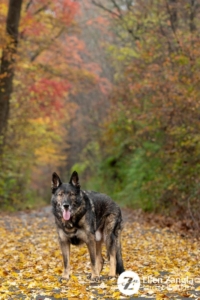 2) Bright, overcast days also really make colors pop. The lighting on those days tends to be even, so it is flattering for pictures of pets and people, too. If you can, have everyone face the direction of the sun (even though you can't see it) as it will put great light in their eyes.
3) Have the sun light your dogs and the background from the front or slightly to the side (again, early morning or late afternoon). Assuming you are taking the pictures and facing your dogs, the sun will be behind you or over one shoulder. Having the sun hit your family members and the background this way puts nice light on them and shows everything to its best advantage.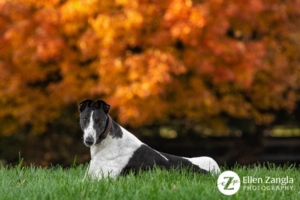 4) Shoot from a low angle to put the leaves or other fall foliage directly behind your dogs. There often is a lot of space between a tree's leaves and the ground, so if you photograph your dogs straight on, you'll see tree trunks and have a lot of space between the top of your dogs' heads and the leaves. Getting lower than them, such as by lying on the ground or putting them on the top a hill and photographing them from the bottom of it, puts the color behind them and eliminates or reduces the visibility of tree trunks and "empty" space.
5) You also can elevate your dogs (or cats or other pets if they go outside). Put them on a chair, crate, or anything that gets them off the ground. Similar to shooting from a low angle, this also puts them on the same level as the foliage.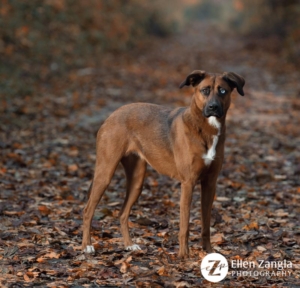 6) If there are a lot of leaves on the ground, shoot from a higher angle and leave room in front of and behind your dog to emphasize them. It creates a very different, and very cool (I think) picture!
7) If you love the entire landscape, try placing your dog at an intersecting point following the rule of thirds. (Think of where the lines cross on a tic-tac-toe board.) Environmental portraits like this can be stunning, and the landscape plays a big part in the beauty of these photos.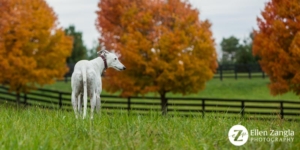 8) Keep your dogs and other family members at least 10 feet from the background. This can help keep the background out of focus, emphasizing your family members and letting the fall colors be the accent of the picture, not the main subject! (Note that this works best with a camera or phone in "portrait" mode. Or if you use a camera in either manual or aperture priority, your aperture should be relatively open, e.g., F 5.6.)
9) If your two-legged family members are going to be in the pictures, clothing colors should complement the foliage (this is true for every season). Think oranges and maroons, not aqua and hot pink. If you prefer neutral colors, choose cream over white. (White is great at the beach during the summer but doesn't work very well outside in the fall.) I prefer gray over black because it's not as stark, but black works.
10) Think outside the box. When most people think of fall colors, they think of pictures with the trees with fall leaves, which is definitely spectacular. But fall flowers are beautiful too, although our allergies may not agree! One of my favorite photos is in front of or in my meadows. I love the golden color of the grasses in the fall as well as their seed pods.
Feel free to email or call me at 703-727-3368 if you have any questions or would like to schedule a fall photo session. Because my photo sessions are outside, it is safe to have one. I hold most of my sessions on my private property in Hamilton, so there are no other dogs or people around. I create much of my landscaping thinking about how it will look in photos, and I have one-of-a-kind props, which you won't find elsewhere. (I would be happy to come to your house or meet somewhere else outside if you prefer that.)
Ellen Zangla Photography: Pet portraits with personality!
M.Photog., Certified Professional Photographer
International Award-Winning Photographer, Professional Photographers of America
My pets, two dogs and four cats, are an integral part of my life. I absolutely adore them. Like other family members whom we love, I feel that it is incredibly important to have portraits of them that capture the essence of who they are, whether they're regal or goofy (or both!) or somewhere in between. If you feel the same way about your dog, cat or other fur or scaled kid, here's how you can learn more about a pet photoshoot with me works. Or feel free to contact me.
I am a pet photographer, specializing in photographs of pets and pets with their people. I serve all of Northern Virginia, including Loudoun, Fairfax, Leesburg, Ashburn, and Reston, as well the DC Metro area, and I would love to create portraits of your pets that reflect how you feel about them and that you will treasure for a lifetime!