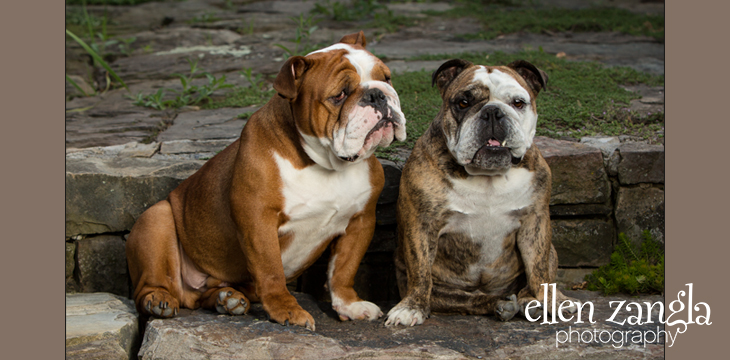 Meet Bulldogs, Zoe and Ozzie
Zoe and Ozzie's mom, Liz, has had Bulldogs for years; she is passionate about the breed and rescue work and is on the Board and very active with On the Rebound Bulldog Rescue. Zoe (the female on the right in the photo above) was adopted in November 2012. Zoe lived with her mom and two other Bulldogs, both of whom passed away soon after she joined the pack, so it was Zoe and Liz for a while. Then one of the other Board members of OTRBR decided it was time for Liz to get another dog, and that dog was Ozzie. Ozzie was extremely sick when OTRBR found him in the Prince William County Animal Shelter. He was in foster care for three months while he recovered before he went home with Liz, although you would never know how sick he was if you met him now.
Zoe loves to play and invents games. She likes to hide under the bed and do sneak attacks. She also likes to get under a blanket, and then she and Ozzie bite each other through the blanket. According to Liz, Ozzie is a "vacuum cleaner." He eats absolutely everything, including socks, paper towels, cardboard and, oddly, the moss that grows between patio pavers (I'd never heard that one before).
Together, the two make a great time. They help to raise money for OTRBR by staffing the kissing booth at various events. As you can see from Ozzie's photos, he is incredibly handsome and draws people in. And then Zoe kisses them. To learn more about On the Rebound Bulldog Rescue or make a donation, click here.
Ellen Zangla Photography—Specializing in pets and the people who love them.
Professional Photographers of America: 2015 Silver Medal Photographer of the Year
https://ellenzanglaphotography.com/wp-content/uploads/2016/10/White_Blog_Header.jpg
360
730
ellen
https://ellenzanglaphotography.com/wp-content/uploads/2021/04/ellen-zangla-photography-logo-horiz-2-1030x367.jpg
ellen
2016-10-11 16:07:37
2021-03-19 16:26:17
Meet Bulldogs, Zoe and Ozzie