Snow—it's one of my favorite elements to photograph in! My dogs have a blast playing in it and it makes everything looks so pretty! But it also can be hard to shoot in. Getting the exposure right can be challenging (gray snow, anyone?) and taking action shots while it is snowing is even harder. Here are seven of my best tips for taking better photos of your dogs in the snow. (And if your cats go out in it, these all apply to them, too!)
Increase your exposure. Cameras want to make everything middle gray, so when your camera reads all the white in a snow scene, it thinks it is too bright and reduces the exposure, making the snow look gray. If you're using a DSLR, you need to increase your exposure almost two stops. And don't worry about photographing white or black dogs in the snow. Getting the exposure of the snow correct means the exposure of the rest of the photo will be correct, too.
Use the snow as your backdrop. Shooting from a higher angle, above your dog, creates a nice, clean background…just your dog(s) and the snow. This eliminates distractions and makes your pup the star!
3. But also, include elements that show how pretty the snow looks on them, including your dog's face.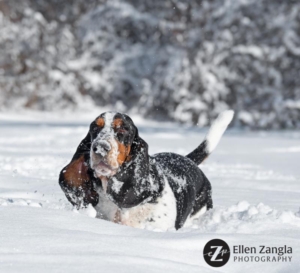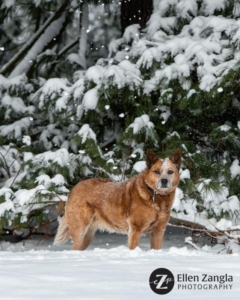 If you're photographing your dogs running or playing while it's snowing outside, be prepared to take a lot of shots. Even though your dog is a much bigger target than a snowflake, your camera has a hard time focusing on your pup.  It will focus on the snow, especially if it snowing heavily. I took *a lot* of photos of Lola chasing her ball in the snow. She is in focus in this picture, but in many of the others, either the snow behind her or in front of her was in focus and she was not. 
Action shots after the snow has stopped are much easier. Try photographing your dog catching (or trying to catch) a snowball. That explosion of snow when it hits her face is a fantastic moment! Running through the snow is also a great shot. Use a high shutter speed to freeze action, including the snow as it flies up in the air!
6. Now is a great time to photograph your dog's footprint. The best way to do this is shooting straight down on it. Also, try to find an area of snow that is less disturbed so the footprint really shows up.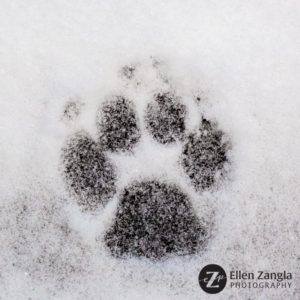 If it's really sunny outside, avoid shooting at mid-day. Your photos will be contrasty, with harsh, unattractive shadows. It also makes it impossible to get your exposure correct on the snow and a darker dog. If it's sunny outside, try getting out earlier or later in the day, when the sun is at a lower angle. I took this photo of Lola fairly early in the morning, while the sun was still behind the trees.
Feel free to email me at [email protected] if you have any questions!
Ellen Zangla Photography: Your pet's personality, your bond, captured forever!
M.Photog., Certified Professional Photographer
International Award-Winning Photographer, Professional Photographers of America
My pets, two dogs and four cats, are an integral part of my life. I absolutely adore them. Like other family members whom we love, I feel that it is incredibly important to have portraits of them that capture the essence of who they are, whether they're regal or goofy (or both!) or somewhere in between. If you feel the same way about your dog, cat or other fur or scaled kid, here's how you can learn more about a pet photoshoot with me works. Or feel free to contact me.
I am a pet photographer, specializing in photographs of pets and pets with their people. I serve all of Northern Virginia, including Loudoun, Fairfax, Leesburg, Ashburn, and Reston, as well the DC Metro area, and I would love to create portraits of your pets that reflect how you feel about them and that you will treasure for a lifetime!