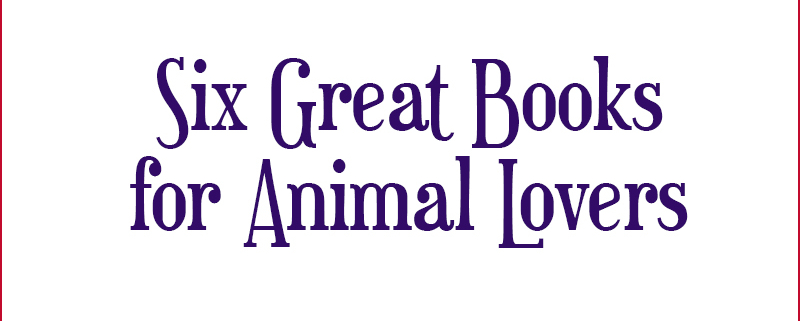 Six Great Books for Animal Lovers
I love to read, and not surprisingly, love books about animals of all kinds. If you're looking for a great book for yourself, or the animal lover in your life, here are six I highly recommend!
   The Soul of an Octopus — I truly feel like I have the best job in the world, but author Sy Montgomery's is a close second. For this book, she goes into the New England Aquarium and shares her experiences interacting with four octopuses. All are incredibly intelligent and each has a unique personality, from gentle to assertive to curious to joyful. You will have a new respect—and love— for octopuses after reading it.
   Watership Down, an adventure novel by Richard Adams, tells the story of a group of rabbits in search of a home. I can't write a description that even begins to convey how compelling this book is, so I'll share two reviews:
 "Astonishing…everyone who can read English should read it." – St. Louis Post-Dispatch
"Spellbinding …magical…Should appeal with equal power to anyone who cherishes the world of nature or who savors a taut tale of suspense, hot pursuit, and derring-do." – Chicago Tribune
When Gwen Cooper, author of Homer's Odyssey, first meets a three-week-old eyeless kitten, she has no idea that he will completely change her life. Homer's story is heartwarming, entertaining, engaging, and inspiring. Cooper calls him a "blind wonder cat;" not only will you agree with her, but you also will fall completely in love with him after reading it.
In H is for Hawk, Helen Macdonald tells the story of adopting, raising, and training a goshawk. After the death of her father, Macdonald adopts Mabel as a way to help cope with her grief. Nature writing at its best, H is for Hawk is an absolutely beautifully written, captivating story—you will never look at hawks the same way again.
   My Old Dog: Rescued Pets with Remarkable Second Acts tells the stories of older, shelter dogs who are adopted and the impact they have on the lives of the people who adopt them. Truly heartwarming, it shows you how rewarding adopting an older pet can be. If you've never considered adopting an older dog, this book will make you think twice. And even if you never do, these stories will touch your heart.
And last but not least, my book, Tails of Loudoun County. With photos and stories of more than 200 pets in historic and scenic locations in Loudoun, this beautiful coffee table book makes a great gift and helps animals in need in Loudoun. A portion of the proceeds from each book sold go to two Loudoun animal welfare groups. Order your copy here.
Ellen Zangla Photography: Pet portraits with personality!
M.Photog., Certified Professional Photographer
Professional Photographers of America: 2018 Bronze Medal Photographer of the Year
My pets, one dog and four cats, are an integral part of my life. I absolutely adore them. Like other family members whom we love, I feel that it is incredibly important to have portraits of them that capture the essence of who they are, whether they're regal or goofy (or both!) or somewhere in between. If you feel the same way about your dog, cat or other fur or scaled kid, here's how you can learn more about a pet photoshoot with me works. Or feel free to contact me.
I am a pet photographer, specializing in photographs of pets and pets with their people. I serve all of Northern Virginia, including Loudoun, Fairfax, Leesburg, Ashburn, and Reston, as well the DC Metro area, and I would love to create portraits of your pets that reflect how you feel about them and that you will treasure for a lifetime!
https://ellenzanglaphotography.com/wp-content/uploads/2019/12/Six-Great-Books.jpg
360
800
EZ
https://ellenzanglaphotography.com/wp-content/uploads/2021/04/ellen-zangla-photography-logo-horiz-2-1030x367.jpg
EZ
2019-12-02 06:46:04
2021-03-19 16:26:07
Six Great Books for Animal Lovers