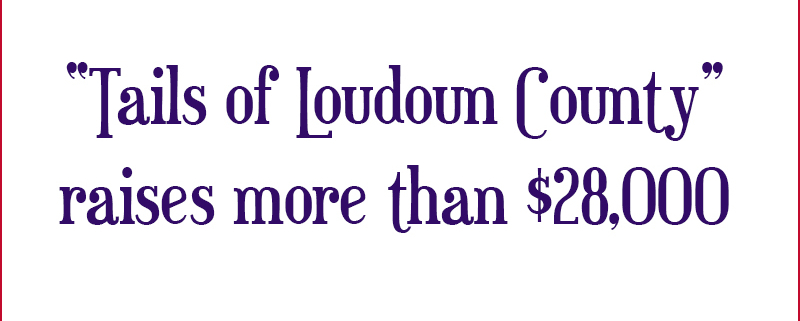 Loudoun County Pet Photographer Raises more than $28,000 for two Loudoun Animal Welfare Groups
(Hamilton, VA: January 10, 2020) — With the publication of her book, Tails of Loudoun County, Ellen Zangla, owner of Ellen Zangla Photography, has raised more than $28,000 for two local animal welfare groups. Tails is a coffee table book featuring photos and stories of more than 200 pets, including dogs, cats, horses, and lizards, in historic and scenic locations throughout Loudoun County.
The book benefits two Loudoun animal welfare groups: Friends of Loudoun County Animal Services (FLCAS) and the Loudoun Community Cat Coalition (LCCC). Both groups work to end animal homelessness and suffering in our community.
"Friends of Loudoun County Animal Services is honored to have been chosen as a beneficiary of this fantastic book. FLCAS will use these much needed funds to cover veterinary care for shelter animals in need as well as enrichment items to keep the animals busy while awaiting a forever home," said Michelle Zebrowski, President, FLCAS.
"The photos and stories are a beautiful representation of human kindness and love for animals. The donations we received so far will provide spay/neuter surgery, vaccinations, flea/tick treatment, and microchips for more than 250 community cats through our TNR programs. In addition, they will fund foster care and socialization for seven litters of rescued kittens," said Tom Bove, President/Executive Director, LCCC.
Giving back to her community is a guiding principle of Zangla's business. Over the past four years, not including the money from Tails, she has raised more than $30,000. "I absolutely love my job and am glad that I can use my passion and skills to help animals in need," said Zangla. "I am truly appreciative for all the support I've received for this project, from the many people whose pets I photographed for the book to the generous local businesses who sponsored it. This project has truly exceeded my wildest expectations!"
The LifeCentre Emergency Veterinary & Specialty Care jumped at the opportunity to sponsor this stunning book showcasing pets of all kinds and our 'hometown' of Loudoun County. We were thrilled to work with other sponsors and businesses in our community to raise money for such dedicated beneficiaries, as we know how hard they work year after year to care for pets in need," said Hayley Blanchfield, Hospital Coordinator, The LifeCentre.
You can purchase a copy of the book at www.tailsofloudouncounty.com or by calling Zangla at 703-727-3368. A portion of proceeds from each book sold goes to FLCAS and LCCC.
Zangla specializes in portraits of pets and pets with their people. She is a Master Photographer, Certified Professional Photographer, three-time medal award-winning photographer in the Professional Photographer of America's prestigious International Print Competition, and Portrait Photographer of the Year in her state professional photography association. Zangla lives in Hamilton with her husband, son, two dogs and four cats. You can see more of her work at www.ellenzanglaphotography.com.
https://ellenzanglaphotography.com/wp-content/uploads/2020/01/Tails.jpg
360
800
EZ
https://ellenzanglaphotography.com/wp-content/uploads/2021/04/ellen-zangla-photography-logo-horiz-2-1030x367.jpg
EZ
2020-01-10 08:35:46
2021-03-19 16:26:07
Loudoun County Pet Photographer Raises more than $28,000 for two Loudoun Animal Welfare Groups