Best Photos of 2021
Although 2021, like 2020, was a challenging year, I hope these photos bring a smile to your face. I was fortunate to photograph a lot of dogs, puppies, and families with their pets this year. I also went to Alaska where I photographed Grizzly Bears, eagles, and a lot of other wildlife — truly the trip of a lifetime! I've included the four award-winning images that earned me a Silver Medal in this year's prestigious International Print Competition. And once again I partnered with Woofie's and Leesburg Veterinary Hospital for photo shoot fundraisers. Together, these raised $10,000 for three worthy groups in 2021.
Wishing everyone a healthy and happy 2022!
About Me
I'm an award-winning pet photographer based in Loudoun County, VA. I specialize in photographing dogs, puppies, cats and kittens, and families with their pets. I love creating photos that capture your pets the way you see them, whether they are regal, silly, serious, playful, or all of the above, as well as photographing dogs in action. I also would love to capture the relationship you and other family members share with your pets.
Feel free to email me at [email protected] or call me at 703-727-3368 if you would like to schedule a photo session. I have a safe, private, and beautiful outside setting, so it is easy to keep a safe distance, and because it is private, there are no other people or pets nearby. I create much of my landscaping thinking about how it will look in photos, and I have one-of-a-kind props, which you won't find elsewhere. (I would be happy to come to your house or meet somewhere else outside if you prefer that.)
My pets, two dogs and four cats, are an integral part of my life. I absolutely adore them. Like other family members whom we love, I feel that it is incredibly important to have portraits of them that capture the essence of who they are, and the relationship we share with them. If you feel the same way about your dog, cat or other fur or scaled kid, here's how you can learn more about a pet photoshoot with me works. Or feel free to contact me.
I serve all of Northern Virginia, including Loudoun, Fairfax, Leesburg, Ashburn, and Reston, as well the DC Metro area. Your pets are your family members — don't you deserve photos you'll love (almost) as much as them?
Ellen Zangla Photography: Your pet's personality, your bond, captured forever!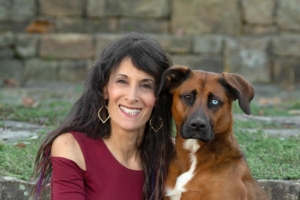 M.Photog., Certified Professional Photographer, Accredited Professional of Animal Imagery
Professional Photographers of America: 2021 and 2016 Silver Medal Photographer of the Year; 2018 Bronze Medal Photographer of the Year