Frequently Asked Questions
Why do you do a consultation before my session?
I want to learn as much as possible about your pets and the relationship you have with them. My goal is to create photos of your pets that you will treasure forever, and the only way I can do this is to learn more about your pet and what is most meaningful to you about him or her. Is it his goofy way of sitting or his regal posture? Is she happiest when she runs, sits in your lap or both? I ask a lot of questions about "Fido" or "Fluffy" and doesn't everyone love talking about their fur babies!? Ideally, we will talk in person so that I can meet all of you before the session. I have found that pets and people are more comfortable during the session if we meet beforehand, which makes for better photos.
My dog isn't obedience trained and/or trained off leash. Is that a problem?
Most of the dogs I photograph aren't obedience champions. It is easier if she knows how to sit and stay, even if it's only for a few seconds. I will give you some tips on how to work with her before the session if she doesn't already know that. Most of the photos on my website have had leashes edited out (see example below), so don't worry if your dog isn't trained off leash. Your dog's safety is my number one concern, and no photo is worth the risk of your pup getting hurt.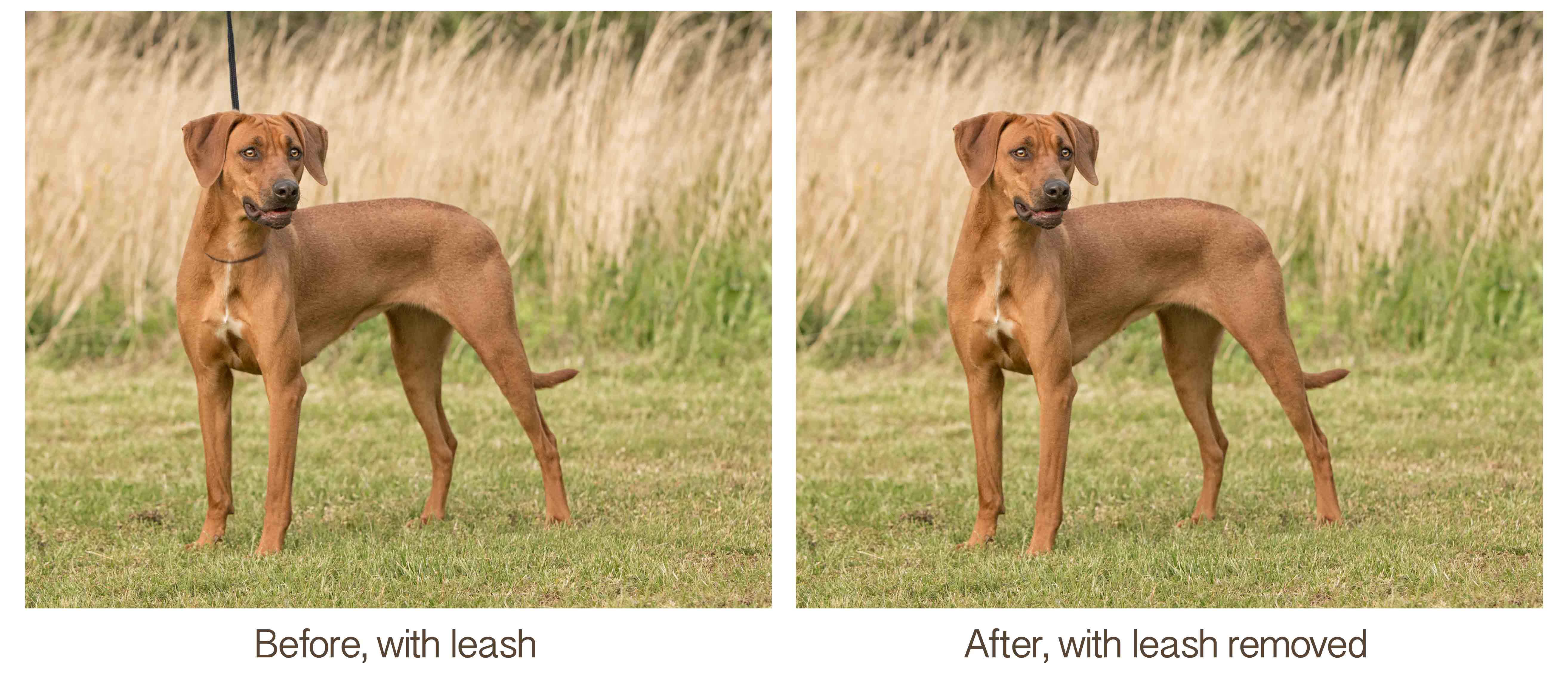 My cat doesn't like to travel; will you come to my house?
Yes, I always photograph cats at their homes. As a cat mom, I know they are not fans of car rides.
I have a black dog/black cat and every time I photograph her, she looks like a black blob. When you photograph her, will I be able to see the texture of her fur?
Both black and white animals can be challenging to photograph if you don't know how to light them correctly, which as a Certified Professional Photographer, I do. You will see the details and texture of her fur. You'll see examples of both black and white pets in my galleries.
Can I be in the photos?
Absolutely; I love showing the relationship people have with their four-legged family members. We also talk about clothing before your session, so that your family photos look as amazing as possible.
Do I have to be in the photos?
No. Many people want photographs of just their pets.
Where will my pet photography session take place?
I have an exclusive outdoor "portrait park" with one-of-a-kind props, which a lot of my clients love. Some people want the session to take place at their home because that is where their dog is most comfortable or because of places in the house or outside that are meaningful, e.g., lying on your front porch. I also have a number of other outdoor locations where I shoot and which I can recommend, or you may have another place that is important to you, such as your dog's favorite park. This is one of the things we will figure out during the consultation.
What types of products do you offer?
I offer a wide variety of different products, including prints, gallery wraps, metal prints, collages, and custom-designed albums and cards. Web-optimized files, perfect for sharing on Facebook or other social media, are included at no additional charge with each purchased photo.
When do I pay my pet photography session fee and print deposit?
You pay both when you schedule your session. Your print deposit goes directly towards your order when you place it, which happens when you see your photos, about 7 days after your session.
What happens if it rains? Or if I get sick?
If you need to reschedule due to illness or just an unexpected event, please call as soon as possible and we will reschedule your session. If it rains, we will schedule another date, but if it is cloudy, we will probably still have your photo session. Overcast days usually have great light!
When will I see my photos?
Your ordering appointment is scheduled approximately seven business days after your session.
Once I order my photos, how long does it take to get them?
You will receive your photos approximately four weeks after placing your order. Albums can take up to six weeks.
Can I get copies of my photos to share on Facebook or other social media?
Every photo you purchase is fully edited and includes a web-optimized/Facebook-sized, watermarked copy at no additional charge.
See "What to Expect" "Session Options & Pricing," and "Preparing for Your Photo Shoot" for more information.