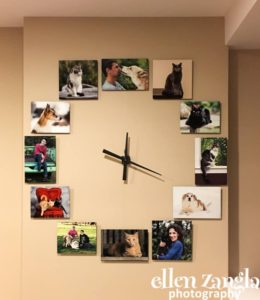 I love animals. I can't walk past a dog without stopping to say hello and pet him (my family knows this about me and just assumes it's going to happen). When we visit friends with dogs or cats, at least part of my time is spent with the fur babies. I consider my four-legged kids to be as much a part of my family as my husband and our two-legged son, Tommy. Every year for Father's Day I give my husband a collage of all the kids—Tommy and our dogs and cats. For Christmas 2016, I gave him a clock with each hour represented by a family member.
My four-legged family members:
Homer
When we first met Homer, he was lying peacefully in a pen at PetSmart while all the commotion went on around him. The description of him said that he got along with dogs, cats and kids, and we had all three. Caesar had the more dominant personality but Homer didn't care; he's mellow and easygoing and didn't care if Caesar ran things. He has a quiet presence—he's always near us somewhere but very unobtrusively. He has a hound's nose: whenever you eat cookies or cheese (his two favorite foods, in that order) he is there. He has the most soulful eyes, following me around the house and looking at me with a gentle, pleading expression until I take him for his morning walk.
Alfie
I photographed him and his brother Griffin (below) for adoption photos for my vet, brought them home for a long weekend (so that they wouldn't have to stay at the vet hospital over the weekend) and never brought them back—foster fails. Alfie is sweet, affectionate and attached, usually hanging out wherever we are, and has one of the loudest purrs I've ever heard. He absolutely loves to be held. When I first picked him up at the vet's office, he wouldn't even let me put him down to sit in my lap, and he still loves to be over your shoulder. He's very clever and uses his paws to try to get what he wants; if you're holding something that he wants, he will pull down on your hand with his paw to get it closer to him.
Griffin
Extremely close with his brother Alfie, they share many of the same traits. He loves to chase anything you throw or drag for him, and if he wants to play, he'll often bring a toy over or lie with a paw on it and look at you. We say that his affection stores run low at night, as he always comes to one of us in the morning wanting a lot of petting and attention. He and Alfie love to play with each other, wrestling and chasing each other through the house. I really didn't bring them home so that we could adopt them, I just wanted to give them a break for the weekend. But we're so glad we gave them that "weekend break"—none of us can imagine life without them.
Lola
One of my friends texted me a photo of Lola's brother and wrote, "Someone needs to adopt this puppy and it is not going to be me." We'd been thinking about adding another dog, and with an older dog and two cats, we figured a puppy would be a good choice. Lola's foster mom had all eight puppies from the litter, and after speaking with her, Lola seemed like she would fit well with our family. She's very sweet and affectionate, licking your face or sitting in your lap when she gets out of her crate. She loves people and other dogs, as well as chewing on her leash, aggravating Homer and chasing Alfie. Luckily for her, she's cute!
Lindy
1998-2016: Our first fur baby. Mario and I had been married for 2 months, and bringing her home made our house a home. I'll never forget the first time I saw her, on Mario's grandmother's screened-in porch. She saw me looking out at her, looked right at me and meowed. I went out to meet her, and she walked right up to me, rubbed up against me and lay on her side so that I could rub her stomach. I squatted down to pet her, looked back at Mario, and said, "Honey, can we have a cat?" Lindy started our love affair with cats. She was always been the littlest one in our house (the most she ever weighed was seven pounds) but always ran it.
Chaya
1999-2015: When we first brought Chaya home, we kept her in a separate room for the first week so that she and Lindy could get used to each other's smells. I slept with her every night so that she wouldn't be by herself, and she slept on the pillow with me, with her nose in my ear, purring all night. She was playful and slightly mischievous, aggravating her older sister and acting innocent when caught, even with a mouthful or white fur. She loved to play ball, batting it back at you or catching it and then dropping it. She also loved hide and seek; it gave her great joy to hide somewhere when you were looking for her, calling her name. And then she'd just turn up, sitting somewhere, with a look on her face that said, "Are you looking for me? I've been sitting here waiting for you."
Caesar
2000-2015: Caesar had been returned to the shelter three times when we adopted him. His description of "problems," included digging, jumping and being mouthy. We figured those behaviors were due to him not getting enough exercise or attention and not being trained, and we were right. He quickly turned into the perfect pack member: smart, loyal, affectionate and protective. He loved to play, particularly in the snow; wanted to be with us all the time; and wouldn't let our son go outside without him. He truly was the perfect dog for us.