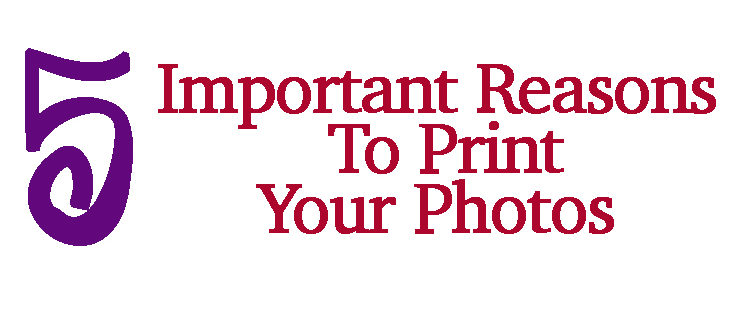 Five Important Reasons to Print your Photos
Fewer and fewer people are printing their photos. According to a recent survey by Professional Photographers of America (PPA), 24% of all respondents don't remember the last time they printed a photo and 42% no longer print photos at all. From the personal —"It is so heartwarming to see love hanging on my wall," to the practical—constantly evolving technology, five important reasons to print your photos.
1) Photographs are meant to be printed and seen. Family photos are the most meaningful art we have in our homes. One of my clients wrote about the photographic artwork I created for her: "It is so heartwarming to see love hanging on my wall." Printed photos have impact in a way that viewing them on a phone or computer monitor never will. Not even close.
2) Keeping memories alive. We all know it is likely that we will outlive our pets. When they are no longer with us, all we have are our memories—and hopefully a lot of great photos—to help keep those memories alive. I know how much I value the albums and other printed photos I have of the fur babies we've lost. Nothing is better than having them with us, but I am grateful to have so many photos of them. Honestly, I wish I had more.
3) Looking at family photos hanging on your wall will make you smile. Every time I walk downstairs and pass my collection of family photos in the stairwell, I smile. Every time I look at the photo clock (see below) I created for my husband, I smile. Every time I look at the grouping of family photos over my bed, I smile. Every time I…well, you get it.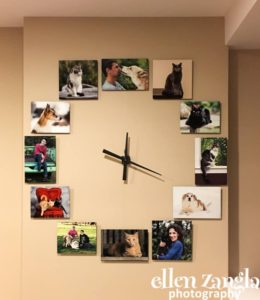 4) Technology changes. Do you remember floppy disks? Or Iomega Zip drives? If you have photos stored on them, how easily do you think you could retrieve them (if they aren't corrupt). Technology changes rapidly, and photos stored on various devices may become challenging or nearly impossible to access in just a few years. This means the memories captured today won't be around tomorrow. If a photo is printed and displayed correctly, it should last at least 100 years. I have a photo of my dad taken 75 years ago hanging in my house. If that photo had been taken 10 years ago, it would be stored on a device I likely wouldn't be able to access.
5) Potential permanent loss of your photos. According to Professional Photographers of America, 67% of people don't actively back up the photos and data on their phones. And 4.5 million phones were lost or stolen in the US in 2014. How heartbreaking would it be to lose all your photos.
So take the time to print your photos. Print your favorites and hang them on the wall so that you, your family and friends can enjoy looking at them. Print all the others in an album once a year—I do this every January with all my favorite photos from the previous year.
Print them. You'll be glad you did.
Ellen Zangla Photography—Pet portraits with personality!
Certified Professional Photographer
https://ellenzanglaphotography.com/wp-content/uploads/2017/05/Untitled-2.jpg
360
730
EZ
https://ellenzanglaphotography.com/wp-content/uploads/2021/04/ellen-zangla-photography-logo-horiz-2-1030x367.jpg
EZ
2017-05-12 14:06:26
2021-03-19 16:26:12
Five Important Reasons to Print your Photos